by Cascade Ice on July 27, 2021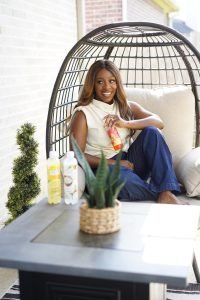 Our friend and Instagram influencer Onyi Azih of Sincerely Onyi recently shared her love of Cascade Ice Sparkling Water with a top 5 list of reasons to fill your fridge with 19 different flavor varieties of sugar-free refreshment! Onyi's go-to beverage is zero calories and gluten free, and it's a great way to stay hydrated during the hot days of summer. If that's not enough, read on for Onyi's top 5 reasons to enjoy Cascade Ice!
You'll meet your daily hydration goals 
With 17.2 ounces of refreshing zero calorie flavors, Cascade Ice is a great option for those who want to stay on top of their daily fluid intake but may be bored with plain old water.
You can kiss sugary drinks goodbye!
If you're looking for an alternative to sugary sodas and overly-sweetened juices, Cascade Ice offers a variety of sugar-free beverages that you won't feel guilty about. 
The quality goes beyond your taste buds. 
There's no questioning the quality of product that Cascade Ice Sparkling Water pours into each bottle. Enjoy all of your favorite flavors that are made with ZERO sugar, zero caffeine, zero gluten, and zero sodium!
Become the life of the pool party with these seasonal recipes that everyone will love!
The fun doesn't stop with the flavor selection. Spritz up your summer get-togethers by recreating some of this tasty cocktail (and mocktail!) recipes from the Cascade Ice blog. 
Cascade Ice Breakfast Smoothie
Easy Organic Grapefruit Prosecco Cocktail
Patriotic Popsicles made with Cascade Ice Water
You'll never get bored of the same flavors. 
Cascade Ice comes in five different product categories, so there are plenty of delicious flavors to try out! There's Original, Original with Caffeine, USDA Organic, USDA Organic with Caffeine and Naturals. 
What's your favorite thing about Cascade Ice? Tell us in the comments below or share a photo! Remember to "like" and "follow" us on Facebook, Twitter and Instagram.