by Cascade Ice on May 17, 2021
Our friend Dawn Parsons from Party 'til Dawn recently came up with some amazing ideas for summer cocktails using our Cascade Ice USDA Organic Sparkling Waters! Dawn's passion is decorating, creating tablescapes, and planning parties, so she knows a thing or two about being the life of the party and serving drinks that fit with any type of season or celebration. The best part of all? All four of these cocktails are not only low-calorie, but they're also low-sugar and can be made completely organic! Plus, they're perfectly light and refreshing to sip during the warm, upcoming summer months.
Read on for Dawn's top summer cocktail picks based on well-loved classics, and enjoy the tastes of summertime!
Spicy Jalapeno Paloma
1.0 oz Jalapeno Simple Syrup
1.5 oz Tequila
Splash Grapefruit Juice
Grapefruit Wedge
Squeeze of Lime
In a rocks glass rimmed with Tajin or chili lime seasoning, fill with ice, add homemade jalapeño simple syrup, tequila, and a splash of grapefruit juice. Fill to the top with Cascade Ice Organic Grapefruit Sparkling Water. Add a squeeze of fresh lime juice and garnish with a grapefruit wedge!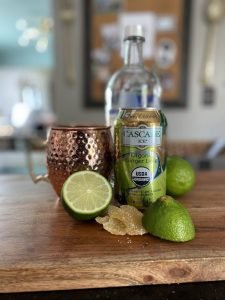 Moscow Mule
1.5 oz Vodka
Squeeze of fresh lime
Candied Ginger for Garnish
In a copper mug filled with ice, add vodka and Cascade Ice Organic Ginger Lime Sparkling Water. Top off with a squeeze of fresh lime juice and garnish with candied ginger.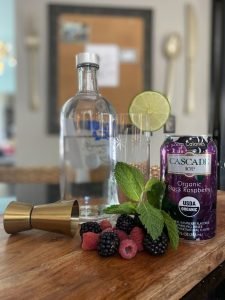 Black Raspberry Mojito
1.5 oz Vodka
Fresh raspberries and blackberries
Fresh mint
In a glass muddle fresh raspberries, blackberries and mint. Add ice, vodka, and top with Cascade Ice Organic Black Raspberry Sparkling Water. Garnish with a fresh sprig of mint!
Citrus Twist Margarita
1.5 oz Tequila
Margarita Mixer
Fresh lime, lemon or orange
Rim your favorite margarita glass or mason jar with salt. Add ice, tequila, margarita mixer and top off with Cascade Ice Organic Citrus Twist Sparkling Water. Top off with a squeeze of your favorite citrus fruit!
Will you be making one of these twists on summer cocktail classics? Tell us in the comments below or share a photo! Remember to "like" and "follow" us on Facebook, Twitter and Instagram.