by Cascade Ice on December 30, 2020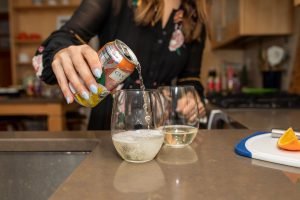 One of our favorite lifestyle bloggers, Megan Pribble of Diary of This Girl Megan, recently shared two original drink recipes featuring Cascade Ice. Although these cocktails are perfect for holiday sipping, they can be enjoyed year-round as well.
In her blog post, she tells us how she uses her favorite line of Cascade Ice sparkling Waters – our USDA Organic line in 8-pack cans – as a refreshing beverage on its own, or to add a kick to low-calorie and low-sugar cocktails!
Always free of calories, sweeteners, sodium, not to mention USDA Organic and non-GMO, Cascade Ice USDA Organic Sparkling Waters come in eight different flavor options to keep things interesting!
Check out Megan's blog for more info on how you can easily whip up a Fizzy Mimosa Cocktail and Pomegranate Mango Fizz – How yummy do those sound? Cheers!
What are your favorite kinds of cocktails to serve around the holidays? Tell us in the comments below or share a photo! Remember to "like" and "follow" us on Facebook, Twitter and Instagram.