by Cascade Ice on August 25, 2021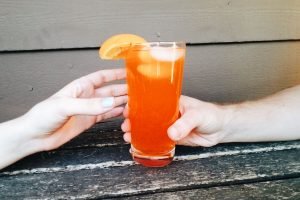 There are still a few days left in the month of August, and just a few weeks left of summer. Did you know that August is national orange month? What better way to commemorate the holiday than to raise your glass to a toast with this refreshing citrus cocktail!
If you love finding new recipes to try for happy hour, but you want to keep your daily sugar intake and calorie count low, this is the perfect concoction for you. Using Cascade Ice Sparkling Water in one of our most popular flavors – Orange Mango – we've made the perfect combination of sweet and tangy to delight your taste buds and say farewell to summertime. Read on for how to whip up our latest low-calorie cocktail.
Cascade Ice Orange Mango Crush
1 oz. simple syrup
1 oz. lime juice
2 oz. orange-flavored vodka
Ice 
2 oz. Cascade Ice Sparkling Water in Orange Mango
Fresh orange slices
Combine the simple syrup, lime juice, orange-flavored vodka and ice cubes in a cocktail shaker until well combined. Strain into your glass of choice and fill to the top with Cascade Ice. Garnish with fresh orange slices, if desired. If you'd rather have a mocktail, simply remove the vodka! 
Have you tried our Orange Mango flavor yet? Tell us in the comments below or share a photo! Remember to "like" and "follow" us on Facebook, Twitter and Instagram.