by Cascade Ice on April 16, 2021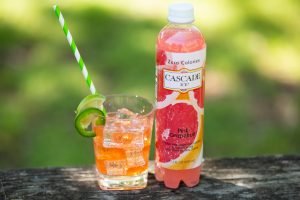 Temperatures are starting to warm up, which means you're probably looking for a light, refreshing cocktail that will cool you off, but won't sabotage your health goals. We have the perfect, easy, low-sugar idea for you! 
A paloma is a traditional Mexican cocktail that is typically made with tequila, grapefruit soda and a hint of lime juice. Of course, we've made it "skinny" by swapping the soda with Cascade Ice Sparkling Water in Pink Grapefruit (one of our most popular flavors). Read on to find out how you can whip up this tasty, simple cocktail from the comfort of your own home!
Cascade Ice Sparkling Jalapeño Paloma 
.5 oz lime juice
1.5 oz Tequila
2 oz Cascade Ice Sparkling Water in Pink Grapefruit
1.5 oz club soda
Coarse cocktail salt 
Grapefruit wedges and jalapeño slices for garnish (optional)
Ice/cocktail shaker
Pour salt onto a plate, dip desired glass rim into water, and follow by dipping glass rim into salt to make it adhere to rim. Fill the glass with ice, combine all ingredients except for Cascade Ice and club soda with ice in a cocktail shaker. Shake, then pour contents into glass and top with Cascade Ice and club soda. Garnish with grapefruit and jalapeño slices if desired. Enjoy!
Have you ever had a Paloma cocktail? Tell us in the comments below! Remember to "like" and "follow" us on Facebook, Twitter and Instagram.