by Cascade Ice on February 26, 2021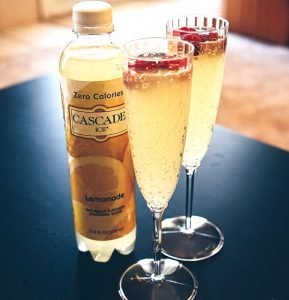 Want to try something a little different? Something that will put a pep in your step, and make you really look forward to your next happy hour? We've got the perfect, light cocktail made with Cascade Ice Sparkling Water! Based on the classic gin rickey cocktail, this Raspberry Lemonade Gin Seltzer puts a fizzy, fruity spin on the old favorite. It's perfect for welcoming warmer temperatures that are just around the corner with Spring coming. 
Not a big gin fan? No worries! You can easily sub vodka or another clear spirit (even white wine!) or, leave out the alcohol altogether for a fun, fruity "mocktail"! The most important step to bring out the fresh fruit flavor is to remember to muddle the fresh raspberries and mix with honey and lime, which intensifies the raspberry flavor in the drink. Even with these sweet flavors, this cocktail is low-calorie, and low-sugar, so sip away!
Read on to make your own and let us know how you like it! 
Raspberry Lemonade Gin Seltzer
1/2 cup fresh raspberries 
6 oz. Cascade Ice Sparkling Water in Lemonade 
2 oz. Gin 
1 tsp. honey
Splash of lime juice
Small handful of ice
Place raspberries at the bottom of your preferred cocktail glass (we prefer a champagne glass), add honey and lime juice. Muddle together until coarsely pureed. Add gin and ice. Slowly pour Cascade Ice Water over the top, and gently stir (it will be fizzy!). 
Have you ever tried a cocktail made with Cascade Ice Water? Tell us in the comments below or share a photo! Remember to "like" and "follow" us on Facebook, Twitter and Instagram.