by Cascade Ice on January 21, 2021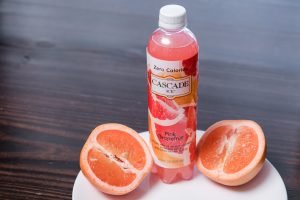 Have you ever had a classic "Sea Breeze" cocktail made popular in the 1980's? It was famous for its simple mix of vodka, cranberry juice, and grapefruit juice, and boasted a distinct sweet yet tart flavor. Like most cocktails, it has been adapted over time to include different ingredients, and we'd like to think that our version is the best yet! 
This take on the classic Sea Breeze cocktail can be enjoyed any time of the year, and is a lower-calorie, lower-sugar version that still has delectable, crisp flavors that remind us of warmer temperatures.
The key to making this drink is to strike the perfect balance between sweet and sour, so we use Cascade Ice Sparkling Water in Pink Grapefruit to make an even more bubbly and refreshing version of the popular cocktail. If you prefer a mocktail, use more sparkling water in place of the vodka. Using gin is also a great option if you prefer, you can substitute the vodka for gin. Read on for the full recipe and enjoy!
Cascade Ice Winter Breeze Skinny Cocktail
1.5 oz vodka (substitute with gin, if desired)
3 oz low-sugar cranberry juice
2 oz of Cascade Ice Sparkling Water in Pink Grapefruit
3-5 drops of grapefruit bitters (for a sweeter taste, if desired)
Ice
Fill a tall glass with ice. Add all ingredients together and stir well.
Garnish with a slice of fresh grapefruit
Are you trying the Winter Breeze cocktail? Tell us in the comments below or share a photo! Remember to "like" and "follow" us on Facebook, Twitter and Instagram.