by Cascade Ice on October 2, 2020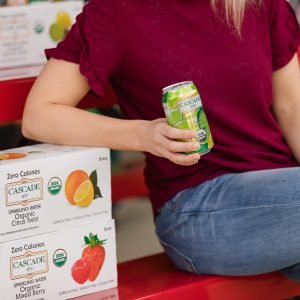 Are you a self-described soda addict? Or perhaps you have a daily soda (or two) and don't really know exactly what you're consuming. We get it – that rush of sugar and caffeine can really help push you through a day where you feel like you're dragging. But studies have shown that the long-term effects of soda consumption can lead to things like heart disease, diabetes and obesity. 
Many Cascade Ice fans have made the leap and nixed soda from their diet with the help of our sparkling waters. We have several different product lines with many different flavors to choose from, with zero sugar or calories. Twist the cap or pop the can open to reveal fizzy, fruity flavor that will never leave you bored. We promise you won't miss soda one bit!
Want more proof that it's time to kick sodas to the curb? Check out our scorecard compared to an average soda:
Typical soda
240 calories
75 mg of sodium
65 grams of sugar
57 mg of caffeine
Cascade Ice USDA Organic Sparkling Water
0 calories
0 sodium
0 sugar
0 caffeine
Still want the caffeine? Our Cascade Ice Organic Caffeinated line is for you! Clean caffeine with crisp flavor, and just the right amount of caffeine to keep you going. 
Have you kicked your soda habit using Cascade Ice as an alternative? Tell us in the comments below, or share a photo! Remember to "like" and "follow" us on Facebook, Twitter and Instagram.