by Cascade Ice on September 8, 2020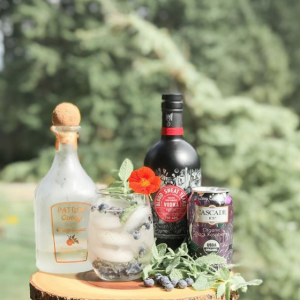 Photo courtesy Instagram user @styledwildandhangry
With just a few weeks of summer left, now is the time to enjoy some cocktails outside, whether it's your backyard, a patio, or picnic at the park. And with the warmer temperature comes the desire for a refreshing drink without all the added sugars, syrups and heavy additives and calories. Our friend @StyledWildandHangry whipped up this absolutely delicious cocktail recently and the setup is definitely Martha Stewart-inspired!
See below for a refreshing end-of-summer cocktail that is flavorful, low-calorie and low-sugar. 
Summer Fruit Spritzer
Ice
1 ounce tequila 
1/4 ounce orange liqueur 
3 ounces Cascade Ice Sparkling Water in Organic Black Raspberry
Fresh pineapple
Fresh blueberries
Fresh mint
Muddle fresh blueberries, mint and pineapple in desired cocktail glass, adding ice over the top. Pour in tequila and orange liqueur, and top with Cascade Ice Sparkling Water. Gently stir and enjoy!
What's your favorite way to soak in the last days of summer? Tell us in the comments below, or share a photo! Remember to "like" and "follow" us on Facebook, Twitter and Instagram.